The ladies always make time to help everyone that walks through the door. If you are looking for an outfit for a special event, check out Elite in Lacombe. Beautiful clothing, footwear and jewelry—with excellent service every time!
For once-in-a-lifetime occasions—mother of the bride, graduation ceremonies, that special anniversary—you need something more than your ordinary clothes, which is where we can assist you. Our range is perfect for every figure and budget. Your outfit will look so great that on the big day everyone will be asking, where did you get that?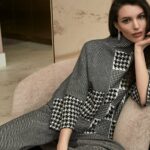 As one of Canada's top clothing designers, you won't be disappointed in the quality and design of anything Joseph Ribkoff. From special occasion dresses, work attire to casual, Ribkoff has quality pieces for occasion.
Canadian designer Frank Lyman has the leading edge in special occasion dress design in the country. Uniquely elegant dresses, trending office attire and beautiful casual pieces make up every collection.